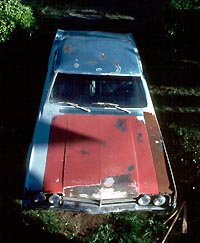 Here is a look at my '66 442. Lots of rust was present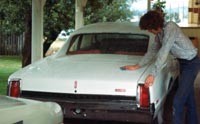 Here it is after stripping and repainting.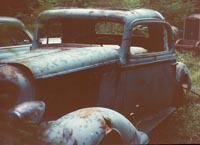 This is a '34 Olds that I was considering buying. It had a lot of surface rust, but nothing to serious.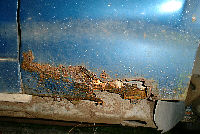 Oh now this looks really bad. This is my '69 442's front fender.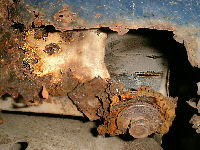 It really looks bad underneath. Fortunately they make replacement patch panels for this year car.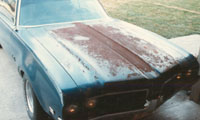 Here is what my '69 442's hood looked like before I followed the steps in B) Surface Rust and even though the rest of the car is now rusting away around it, the hood still looks like new after 10 years being parked outside.
Removing Rust from your Car

In my experience rust manifests itself in three ways on an automobile. A) Minor rust due to scratched in the paint. B) Surface rust where the paint has totally come off and in some cases the metal has started to pit. C) Major rust, where the rust has penetrated the steel to the point of creating holes. In this article I will attempt to address the ways that I have found effective in repairing rust in each of these three categories.

A) Minor Rust – If a scratch in the paint penetrates down to the steel it will create rust, which will worsen with exposure to everything from rain to pressure washing . Obviously the best action to prevent rust in this case is to touch-up the paint immediately after the scratch appears thereby preventing the rust from ever becoming a problem. In the event that a scratch is allowed to rust then the following steps may be taken to remedy the problem. 1) Take a piece of 400 grit or finer sandpaper and fold it over to create an edge for which you will use to sand the rust out of the scratch. 2) (Optional but preferred) Purchase (if you don't already have it) some "Metal Etch" solution and apply it to the freshly sanded scratch per manufacturers instructions. 3) Using a touch-up paint that matches your car apply per instructions to the scratch. After the paint has cured you can also lightly Color Sand and Buff out the surface.

B) Surface Rust – This type of rust will usually require a complete panel repair and repaint. To fully remove the rust (especially if pitting has occurred) you may need to take the following steps 1) Chemically or Mechanically remove all visible rust – typically the steel will exhibit a dark gray color. On my '69 442 I had to sand blast the entire hood of the car which was badly pitted. 2) After the rust has been removed, remove the surrounding paint on that same panel and metal etch the steel. 3) Prepare and Paint the surface. 4) (Optional but recommended) Once the paint has cured Color Sand and Buff out the surface.

C) Major Rust – Follow Step 1) above 2) Now we are getting out of my expertise. I am facing a similar challenge on my '67 Cutlass and I am looking to have a professional cut out what is left of the offending rust and weld in a new piece of sheet metal. My welding skills are non-existent so therefore I must turn to someone else for help. However, one thing I am seriously considering doing is having the car dipped in a non-corrosive bath to further remove all traces of rust before I turn it over to the pro's. A dip will help to remove all of the paint and road buildup that the car had seen over the years and it will clean the glue out of the window surrounds and will help guarantee that I have gotten all of the rust in the nooks and crannies. If I take this approach I will be sure and publish the results here. The next steps once the car has had all of its rust removed and sheetmetal replaced would be the same as 2) and 3) above.

Well good luck, I hope I have been of some help and be sure and let me know how your projects turn out. If you would like to showcase some of your projects or work here, drop me a line and we will be glad to consider putting up a article for you to share your experiences. I am by no means a professional as most of you reading this are not either, and I always appreciate information that I can pass on to others. Please keep in mind the fact that I am sharing my experiences with whoever might find them helpful in any way but please don't construe them as advice and always do further homework before tackling any major project. Everyone's circumstances are different and I wouldn't want to lead to astray.

Definitions:

Metal Etch - A solution that is applied to bare metal to prepare the metal for painting. Metal Etch is usually diluted in a water solution and applied to the metal and then rinsed and dried. Color Sand – To use a 1000-2000 grit sandpaper to wet sand a area in preparation for polishing. (Only recommended for folks experienced in this type of activity) Buff – To polish by hand or with a machine polisher using various polishing compounds, usually beginning with a coarse compound like a Meguiar's #1 or #2 followed by a #3 Glaze. Check out Meguire's website for their advice. Chemical Rust Removal – There are several chemical on the market that claim to dissolve and remove rust. Take extra caution when using these as they are usually quite caustic in nature Mechanical Rust Removal – I.E. Sandblasting – There is a variety of blasting media available that can remove paint and rust. Be careful not to use to strong of a grit which will also remove good steel along with the rust. Please consult with your paint supplier or as I did my local sand and gravel supplier to determine the right grit for you application. Paint Removal – To remove paint always use a flat surface with your sandpaper such as a sanding block or pad or a power device that has a flat surface. Typically start with a 220 grit sandpaper and move up to a 400 grit sandpaper in preparation for painting. If you use your hands you will create small valleys in your primer surface that won't show up until later after you have painted your car. If you are taking the paint to the bare steel surface this precaution is not as important as it would be more difficult to damage the hard steel surface. Never ever feather paint out by hand as it will cause these same valleys. This is the number one problem that I have seen that amateur painters do ( I learned the hard way as a teenager). Tack Rag – A purchased "rag" that has been treated with a sticky substance that will attract dust and dirt while not leaving any residue on the surface to be painted. Prepare and Paint - After allowing the surface to dry completely, make sure the surface if free of dust and chemical residue and apply a coat of self etching primer such as PPG DPX170. Allow to cure and apply a good wet coat of a epoxy primer such as PPG DP-40 per manufacturers instructions. After the epoxy primer has cured you are ready to apply a primer surfacer such as PPG DZ3 . This type of primer helps to fill small voids in the surface such as pits and chips. After cure of this primer, block sand the area with a 400 grit sandpaper and look for any imperfections. If any are found, you may fill them with a acrylic putty which you should allow to cure and then re-apply the primer surfacer. Continue with this routine until all flaws have been removed. Now the surface is ready for paint. Use a tack rag if necessary to remove any dust or dirt remaining on the surface and apply your topcoat paint per the manufacturers instructions. I prefer to use the PPG Deltron line which I have had success with in the past. Please write me and tell me about your favorite paint line as I am always looking for something better.