Bill Pearson's 1968 Hurst Oldsmobile

The car that you see in these pictures was purchased new in Lansing IL, by Bob Anderson from Hammond, IN in the summer of 1968. According to the legend (that may or may not be true), soon after it was purchased it was taken on a trip to Florida, to break it in. Thereafter it saw regular drag strip duty, only drag strip duty. This particular car was purchased with out any options, no air, no power windows, no power steering. The only option that I can find is a rear seat speaker, could it be that all H/O's had rear seat speakers?

Legend has it that It raced at the US nationals in Indianapolis against George Hurst's own H/O. I don't know whether this was in 1968, or 69. It raced in the NHRA stock class. Unfortunately I don't know what stock class it ran in. NHRA changes classes periodically, so what it would run in today isn't necessarily what it would have run in when it was new. There appears to have been a little cheating going on back then because the intake manifold is an aftermarket aluminum intake with the brand name and numbers carefully ground off and refinished in the stock red color.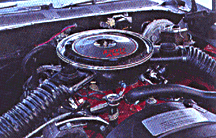 The headers were supposedly prototype headers hand made in Lansing MI, by JR. One tube on each side goes right through the plastic inner fender and around the frame! Remember this was 1968, these cars would be made forever, or so we thought. Other stats., Stock, but modified Quadrajet, original heads, non original, but stock type block, (remember this was a race car). Mondello solid lifter cam with Ford small block roller rockers and TRW 10.5:1 pistons. The Transmission has been rebuilt and tightened up but will still shift automatically, the converter stalls at about 4500 rpm, Gears are 4.33:1, however when it was raced in the 1970's the gear ratio was 5.00:1. Ignition is with the stock points type distributor.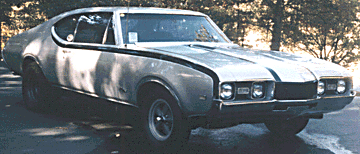 It's racing history seemed to end in the early 1980's when the original owner got very ill, and eventually died. When he was sick he sold it to a friend of mine who often raced his own silver 1970 W30 against it, and usually lost. Ira had the H/O for a couple of years when I mentioned to him that I was considering purchasing a 1969 Judge. He said, "why not buy his H/O, it was similar, but much fewer were made......I said OK!

That was 1986, the car had 29,000 miles on it, (it was always towed to the race tracks). No rust, interior perfect, the back seat may never have been sat in, but the paint was kind of tired, with lots of little elbow dents on the tops of the fender.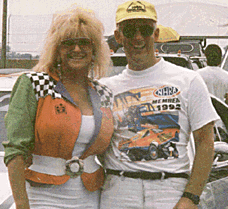 Since then I had it painted, bought fresh tires and started driving it to car shows. With the combination of converter, gears and cam it wasn't very happy on the street, 3500-3800 rpm was normal at 55 mph and the converter was not locked up. When going up a hill I would occasionally see 4000 rpm, not too enjoyable. So I decided that I had two options, I could change it back somewhere near stock, not too exciting, or take it back to the drag strip.

Well, the drag strip option was an easy decision. So far the best ET has been 12.45 and the best speed was 110, (not the same run). But it gets better, when I was at the Goodguys vintage drags in Indianapolis I met Linda Vaughn, you know the real honest to goodness, no legend here, Miss Hurst. She sat right on my hood, my wife, Sharon, graciously took our picture. Linda just came up and started talking about my car and how she liked it, can you imagine, Linda Vaughn, at the Drags talking to me....my one minute of fame.

Now......Sharon never asked for anything.....for taking that picture of Linda, Me the H/O......hmmm.

Contact Bill

----- Back to the Rocket Rides Index -----