David Forstat's 1966 442 Convertible


I bought my 1966 Oldsmobile 442 Convertible in 1971 from a drag racer in Detroit, just off of Woodward Ave. (Cruise City, U.S.A!) for a paltry sum of $500. I was a young FOOL when it came to cars....I couldn't even drive. My old man came with me to oversee the transaction (he knew even less then me). He thought I should by a red convertible Delmont, that we saw first (it was $750, but much larger). I had to argue with him that I wanted a "stick" so my twin sister wouldn't be taking it all the time. I even drove it home that night (I was only 14!) The car was in pretty good shape (body & interior). The motor needed rebuilding, and the top was shot. The owner offered to replace the top if he could keep the tri-power setup.....WHAT A FOOL I was to agree!!! The top he put on, only lasted a few years, and I had to do it over again. The car is the light blue (Lucerne Mist), and originally come with a light blue interior with a light blue top....triple blue! I hated the color and someday wanted to have it painted red. So I proceeded to hunt up black interior parts, and had a black top installed....all but the paint. To this day it is still blue (I am sure glad I didn't change that color).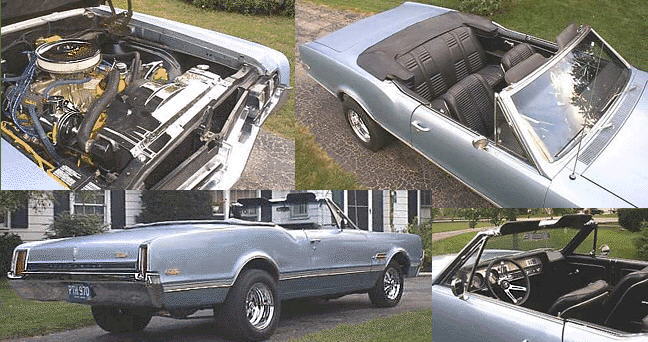 The only modifications I have made to the motor is to do a performance rebuild, added an Edelbrock Torker manifold w/750 Holley double pumper, headers, and 4.11 gears (I plan to restore the exhaust to factory original, including tailpipes.....another day!) The car originally had a trunk mounted battery, with an electric antenna. Which I didn't like and had both relocated to the front where I thought they belonged. You can kick me.....I know. I drove it all the time in high school next to my my buddy driving a red '66 GTO convertible, 389 tri-power. What HELL we caused back then. The car has been stored winters since 1975 (I drove a '68 beetle in the winter, what "warm" fun that was, for 10 years to save this rare piece of Lansing metal!) The qtr's had a little rust behind the wheels which a friend and I redid back in '76, the trunk floor also has some rust near the wheel wells, which I hope to replace in the future. The rear seat floor pan had similar rust as well. Probably because the top was left down for many years parked at this guys house I bought it from.... Since then I haven't drove it much, especially the last 15 years (maybe 500-1000 miles a year) The body has 124,000 miles but only 18,000 on the drive train rebuild. I added Crager SS 5 spokes in '78, but now wish I had the original SSI wheels that it came with.......
David has promised me some new pictures so stay tuned. anybody out there got some SSI's for David?

Contact David
----- Back to the Rocket Rides Index -----