Doug McClanahan's 1967 Cutlass Supreme

Doug hails from the Great Pacific Northwest as I do. Love the wheels on this car. (Web Master)
3 years of work and $15,000 have conspired to produce what I have always wanted - a car that: handles, looks like no other, has the right sound, accelerates decently, stops on a dime, turns heads and holds its value - all while costing less than a used Honda Accord! It all started with a rust free 330/2speed Callfornia car in great shape and only 92,000 miles. It made a squeak one day (air pump) so I disassembled the car all the way down to the fire wall and frame rails. Admit it, You have been there! While everything was out, I gutted the running gear and replaced it with a stock rebuilt, low compression (8.5:1 - for use with regular unleaded) 1972 455 with the little valves. I used new 400-455 motor mounts and everything bolted right up. I used the passenger side Torro exhaust manifold and the stock 330 driver's side manifold (both enter the pipes at 2"). Behind them are new 2.5" Edlebrock pipes and mufflers (mandrel bent). I also have a 1968 high compression 455 big valve "C" head Toro motor that will someday replace the stock unit. It will get appropriate headers then. Anyway, I trashed the points and replaced them with electronic ignition, tossed in lighter advance springs, added a new GM starter, 55 amp alternator, and ordered a rebuilt quadrapuke with the jetting appropriate for the car's set-up. That didn't work. It ran lean so I tossed some 44b's in the primaries. The plugs are light marshmallow brown now. Good-n-safe. The radiator is a new 4 core unit and the fan is clutched. Again, good-n-safe. Oh ya' I replaced the heater core and all belts, hoses and lines too.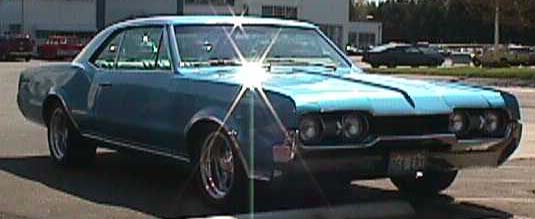 The tranny was replaced with a rebuilt TH 400 long neck so as to shorten the drive shaft. It shifted too quick so I cut the restriction tip off the metal vacuum tube. That helped a bit but I'll have to get an adjustable modulator. I had the new drive shaft made at 3" and it connects to a new big bearing Courier 9" ford with 3.5:1 gears and a cone clutched diff. I ordered it with the big rear drum brakes. I'll go to the yard some day and grab some disks with the parking brake. I replaced the saggy springs with Hotchkis 125 lbs/in rear and 500 lbs/in front units. They're an inch lower than stock. The shocks are KYB gas-a-just. The Die Hard silver battery was relocated over the right rear tire. The tires are Dunlop SP 8000 in 175/40/17 rear and 225/50/16 front. No need to spend the big dosh on Goodyear's as the car will not be able to use them to their full potential - and the Dunlop's are just fine... The Weld wheels are 17x9.5 rear and 8x16 front. The backspacing... will be kept a secret. Every bushing has been replaced with polyurethane. The idler arm, inner and outer tie rods, center link, ball joints, and power steering unit are all new. The power steering is a new Red Head, fast ratio unit. The front anti-sway bar is 1.5" and mounted with polyurethane (squeak squeak). The rear bar is 1" and only somewhat effective. I took it off. The front drum brakes? Gone. Willwood had a nice kit that may last awhile (20 - 40K miles???) so I threw them on. The car stops like mad. Added a new disc master cylinder and vacuum boost, adjustable proportioning valve (not actually needed), new lines (hard and braided steel), new disks, hubs, bearings, brackets, shoes, and 4 piston calipers. Very nice. The kit allowed me to keep my drum spindles!!!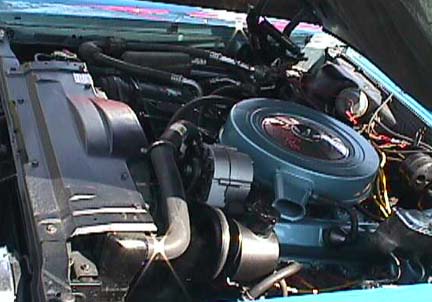 I added a tach., oil pres., oil temp., tranny temp., water temp. and vacuum gauges to the bucket seat equipped light blue interior. I have two very large top grain Scottish leather (Douglas) hides yet to install on the still fine interior. The rugs are new as are a few trim pieces. I added a vacuum actuated trunk release also. Sony CD with remote, old Yamaha 150 amp and Polk 9" supply the other sounds. The paint was taken down to metal, 2 part poly replaced it (ford probe blue) - inexpensive and ubiquitous. New Soft-Seal rubber seals everywhere except the jams as they still need painting... I put the door locks back on upside down. Oops. I think I'll leave them that way. A new front windshield was added. The back was taken out and resealed after the area between the sail panels was fixed. Par for the course I hear for '66-'67 years. Chrome and stainless were great so no problems there.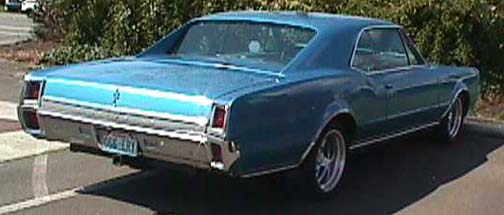 I needed to have a hitch installed as I have a SeaDoo. I hired two yahoos to do the work. They nearly blew the car up when they welded it on. I walked in on them in the afternoon and although I didn't know it, one of the guys had dialed 9 and then 1. I saw him sitting by the phone with the receiver next to his ear and his finger on 1. I asked him what he was doing and he just smiled and said "...just in case..." while pointing to his buddy who was welding the brackets on next to the fuel tank. When they said they were done, I paid the two old timers 100 bucks and a big 'ol bottle of beer - which they requested. They took all day and still managed to screw the job up such that my trunk pounded on the bumper. Jokers. I had to cut the welds and fix it myself.
Well there is more to this story but you should have better things to do than read about my car. Go work on yours.
Seriously, it has been a fun project so far but if anyone knows about using and or installing an overdrive transmission in a 455 equipped car, or you want to know more about my little project, email me.
Contact Doug
----- Back to the Rocket Rides Index -----