Gregg and Mary Ludlam's 1967 Toronado Deluxe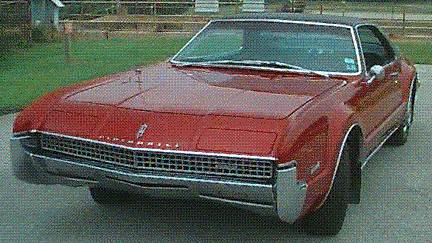 Our '67 Toronado is one of 20,020 Deluxe versions produced by Olds that year, of which ours is #14827. The car shows just over 65,000 miles on the odometer and we are the third owners. The car was originally purchased in Hazleton, PA in 1967; the second owner purchased it in March of 1994; we became the third (and hopefully FINAL) owners in August of 1995.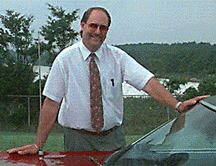 The original owner was quite elderly when he sold the car, consequently it was in need of some cosmetic and mechanical work. The second owner did a "backyard" restoration of the cosmetics, repainting the car in 1991 Chrysler Claret Red from its original color of "Sautern Poly", a greenish-silver hue. The black interior is original and nearly perfect, equipped with a power Strato-Bench seat. The black vinyl top is also original and in excellent condition, although there are some signs of rust forming under the material, especially at the A-pillars - a common occurence for this vintage Toro. The car is equipped with a working AM-FM Wonderbar radio, Custom A/C, power windows, power steering, power drum brakes and vacuum trunk release. We have recently obtained a Tilt/Telescopic steering column (thanks again, Greg Kalkhoff!) and will be installing it soon.

We have put most of our efforts into mechanically restoring the car. The second owner's brother had three '66's that could be picked-from for parts, which would explain why our car had a '66 Quadrajet carb and "B" heads on it. We have since installed the correct carb (thanks again, Chris Witt!) and are in search of a set of good, restorable Toro "C" heads. The engine and transmission gaskets/seals are badly dry-rotted, so the car has had the full range of fluid leaks, although most have been corrected. We have installed a Pertronix Ignitor electronic points/condenser replacement unit which has provided great results and badly-needed reliability. Our future goals are to rebuild the 385 bhp, 425 ci. powerplant with some mild performance enhancements. Research is ongoing on this subject!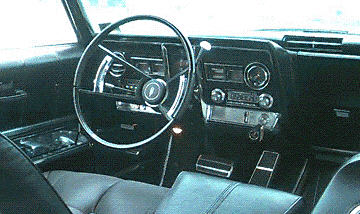 This magnificent car was truly ahead of its time. Although our learning curve has been steep, we have absolutely enjoyed our first year of ownership. It's a blast taking it to cruise-in's and being mobbed by people who ask, "What kind of car IS this?!", or seeing the look on their faces when you tell them it's front-wheel drive! Since the car is a "driver" and NOT a museum piece, it gets quite a bit of exposure around our area of southeastern North Carolina.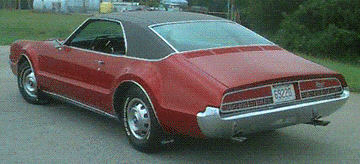 Contact Gregg and Mary
----- Back to the Rocket Rides Index -----