Jeff Provost's 1965 442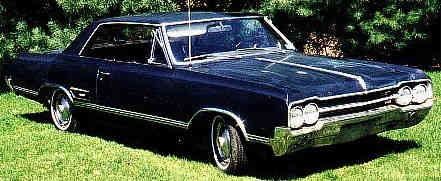 Jeff Provost is the youngest member of the Connecticut Cruisers and he is undertaking a project that even experienced hot rodders would cringe at the thought of doing. He is in the process of completely disassembling a 65 Oldsmobile 4-4-2 and making a street machine a lot of us are sure to be envious of. Not even out of high school, Jeff has made a lot of progress on his car. The body has been removed from the frame, the frame has been completely stripped and sprayed with the requisite gloss black paint and reassembled. Repair work has been started on the rusted areas typical of any mid 60's GM car and prep work for paint is well underway.
In Jeffs words....It all started when I was about 8 years old.....dad brought home the body and frame to his first cruiser, a 1923 T Bucket kit car. From there i had caught on, and over the years wanted several different cars, including a 1967 Camaro RS/SS convertable, 1932 Highboy, 1948 Anglia pro street, 1965 Chevelle SS convertable, and a 1962 Impala SS 409.
My dad had always told me about his stories about the 1965 442 convertable he had in the late 60s, but I never really wanted one considering how rare the cars actually were. Well one day in January 1998, on my bus ride to school, i caught a glimpse of a different looking muscle car sitting in this driveway. After finding out that it was a 1965 Olds 442 Holiday Coupe that was in good condition, it took until April 1st when the owner's father returned from his home in Florida. After a few good looks at the car, and evaluating what it needed, and eventually figured out a price. Next thing I knew i was a 16 year-old riding in the passager seat as my dad drove my very first muscle car back to my house.
From that point it was a project to the finish. Once my grandfather decided to let me use his garage to store my car, i had it trailered there, and started tearing it down. When a part came off, it was brought home and stripped and painted, or put aside to be replaced or rechromed.
I recently picked up a Borg Warner Super T-10 transmission, disc brakes, and am now looking to buy all of the suspension bushings, shocks, and brake parts. Once the undercarrage is completed, the time will go into bodywork and the money will go into the motor. The 400 will be completely rebuilt as well, with a basically stock bottom end, bigger cam, roller rockers, stainless valves, and eventually a 2-4 low rise Offenhouser intake with 2 500 cfm Carter AFB's. I plan on doing the car basically stock, with a little of my own personality built in. Not only will the undercarrage be gloss black, but also the engine compartment, as well as an almost perfectly straight body covered in DuPont's Scarlet tri-coat pearl, which will have a Scarlet base coat, and change to a plum purple as you walk by it. It's some pretty wild paint, that will look good with all the rechromed trim and Billet Specialties 5 spoke wheels.
| | |
| --- | --- |
| Here's the motor before any disassembly work was started | Motor has been removed, now it's time to remove the body |
| A homemade semi-rotisserie was made to facilitate working on the underside of the body | The frame awaiting a little TLC |
| Jeff hard at work priming the wheelwells | The best part of any restoration is when things start going back together again! The completed frame has been sandblasted and painted and awaits the body to be dropped back onto it. |
Contact Jeff
----- Back to the Rocket Rides Index -----