Juan Azouri's 1967 Delta 88 Convertible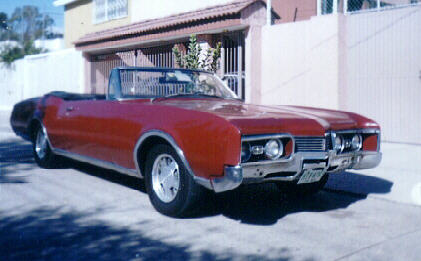 My name is Juan Azouri. I live in Guadalajara, Mexico. I'm the proud owner of this car.

This was my father's Oldsmobile Delta 88 Convertible. Belongs to our family since 1968. Color is Titan Maroon (some sort of Dark red-wine?), with black top. Original wire wheel covers, electric top, seat, neumatic door locks, electric antenna ... all working! Engine: V-8 425 cid. 3-speed automatic trans., original 4-wheel drum brake system, dual exhaust. Black interior, original upholstery, (with the exception of a new carpet
that was needed to be added on this restoration) Power Steering, electric seat, pneumatic door locks, electric top & Antenna, horn... all working! Car was originally sold by "Sam White Co." in Houston (I have original
title and signs!)

This car does have an incredible story and I think (he and me) are lucky that I own it. My parents got him in 1968 when my father was working for the original owner that owed my father some money. Because that person wasn't able to full pay the debt with my father, he told my father to choose between this car and other yellow one (I wonder what the other car was...). My father, angry, returned home and discussed this with my mother.
She told my father that grab the car... anywas "a car is better than nothing". My father returned next day with the red convertible. Thanks mom! After the years, for several reasons this car remained with the family. Several
times people offered to buy the car, (one time was saved from being sold for miserably $600 can you believe it?)... for a while this car was driven by one of my father's workers that again, offered him to buy it. Again, thanks to my mother's intervention, the car remained with us... because my mother did have an idea: this car was destined for me. The car was repainted in 1989 (color shown in the attached pictures), but the car was kept in semi-storage for almost 10 years!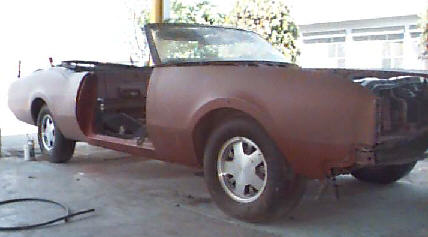 I've recently begun restoration to it's full original condition, it only needed new paint job, all metal sheet was in excelent condition! Starting Jan12 '00 ,working on him for about 3 months (just a few steps where I work) we matched original numbers to find the color. Bumpers and all chrome sides were re-chromed and polished.
Engine was re-wired and repainted to the original black+red colors. Car shines with 6-coat paint and 5 coats of crystal Polyurethane. All frame was repainted with anti-oxyde mate black.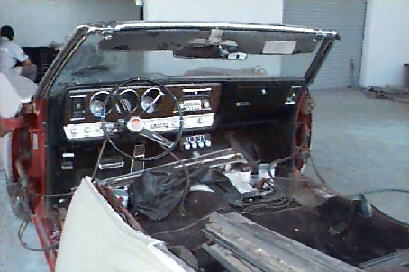 Finally this Saturday March 25 '00, the car is now happily back at my home, and I'm going to have him polished every month and I will be driving it Sundays.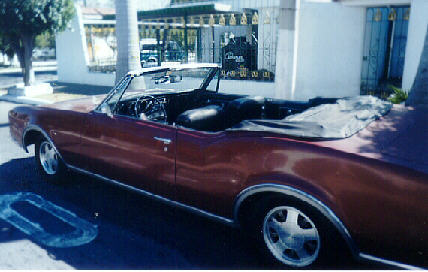 More photos in few days!
If you have any questions, please write me. Regards!
Juan Azouri
(Guadalajara, Mexico)
jazouri@4remtech.com

----- Back to the Rocket Rides Index -----