Kurt Shubert's 1966 442's
The first of my '66 442s, this is a Cutlass Sport Coupe, one of 3,787. In mid-restoration, this W-29 is being rebuilt totally as original, except Tri-Carb is being added to the engine, rebuilt to '66 W-30 specs. The engine is the original (documented by the Protect-O-Plate) and was not overbored in the rebuild.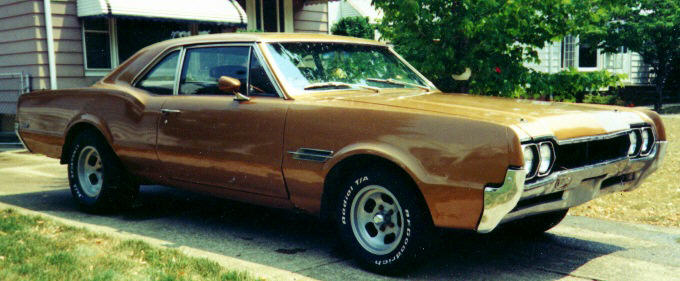 It will be painted the original Sierra Mist. Body side molding (missing in the picture) will be put back on. It has the close ratio 4-speed, 3:90 posi, and black bucket seat interior with a console.


This is my F-85 Deluxe 442. My next project after the Sports Coupe, it is one of 178 factory L-69 F-85 Deluxes. Originally it's Target Red with a black interior. It has the 4-speed (mandatory with the Tri-Carb) with a bench seat (buckets were not available on the F-85), side-mount tach, and power antenna (more weight over the right rear!).

Purchased at a swap meet a few years ago, it was being offered for parts. I bought it 2 hours before it was to be disassembled and dispersed. Though needing A LOT of work, it's amazingly complete.
Contact Kurt
Go to Kurt's Oldsmobile Page
----- Back to the Rocket Rides Index -----