For the past decade I have been struggling over how I was going to restore my High School Car.
Since my 35th High School Reunion is in August of 2007, I decided it was about time I got the car restored so that I could drive it to the reunion.
The first dilemma I had was on how I was going to fix the various pieces of rust around the car. Nothing really serious, just to much for me to do since it would require metal fabrication and TIG welding.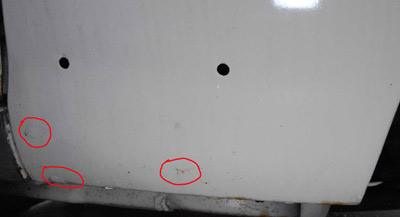 Front Fender Rust starting to peek through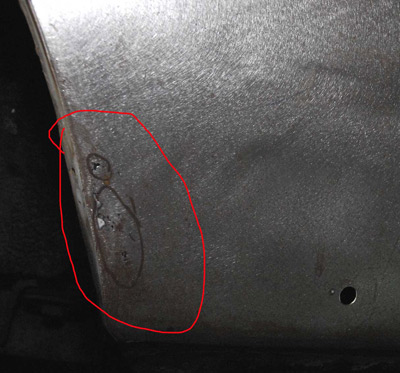 Rear fender rust already broken through.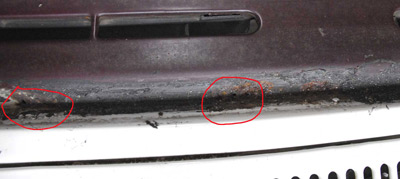 Front Window Rust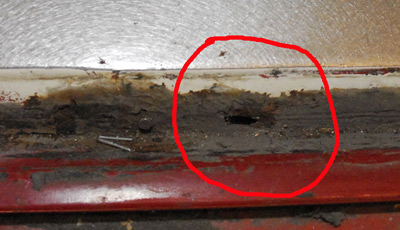 Rear Window Rust
But probably the worst element of the repair was what to do with the fender that Arlen's Body Shop had "repaired" in the mid seventies. Their idea of a repair was to cut off part of my old fender, overlap a new one, rivet it, weld it, and then beat the living daylights out of it and then fill the depression with Bondo.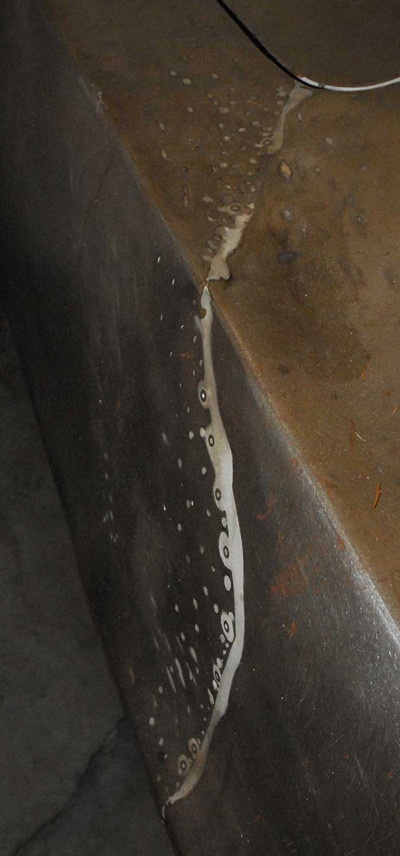 This led me on a hunt for a rust free car that could donate some sheet metal to mine. I found that car in Phoenix Arizona. Rocky who at 85 had decided to hang up the keys a couple of years ago and decided that it was time to part with his car. He is the original owner and the car was bought in LA and moved to Phoenix in 1971 and has been there ever since.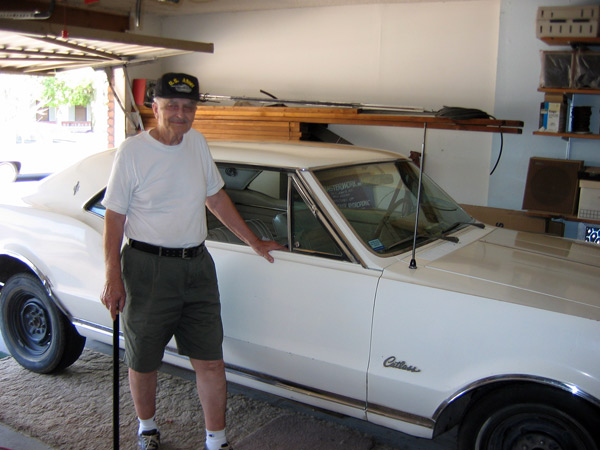 Rocky and his car
After some negotiations and 2 grand later, the car was mine. The car has 268,000 miles on it and had not been driven for 3 years. I fired it up and took it around the block only to discover that it had no brake pedal.
Back to the driveway I went and in 106 degree temperatures I proceeded to jack the car up and adjust all four brakes. After that, the car had pedal and would stop, but not very well.
The sheet metal appears to be rust free. The car however has quite a bit of damage to fix. The passenger rear fender was crumpled in and needs fixing and the drivers rear fender was previously damaged and the bondo is now cracking. It looks to have been a poor repair and all of the bondo will need to be removed and the metal worked out as much as possible. The passenger front fender looks like it hung up on something and has a bulge in it. Doesn't look to bad and should be easy to fix. The rest of the body has various dings and small dents in it that will need to be smoothed out. The car had been totally repainted some time ago.
Well my idea was that if the car ran that I was going to drive it 1500 miles back to Seattle rather than paying $1000 to have it shipped. This would be a real test for a car that will be 40 years old in October. Oh, by the way, the car had the original Protect-O-Plate in the glove box.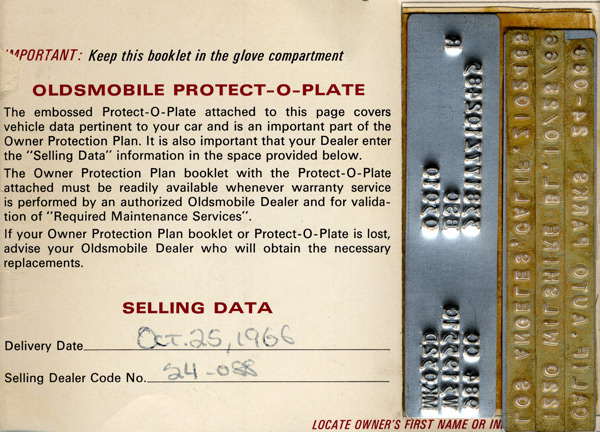 Protect-O-Plate
After purchasing the car, Glorene and I met her brother Bo at a local restaurant for lunch. She had not seen him since she was 5 years old when he came to her fathers funeral in San Bernardino.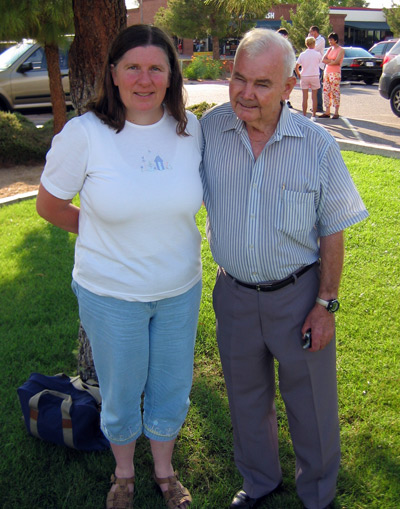 Glorene and Bo
Off to Seattle
After a good nights sleep we packed up the car with a cooler and some tools we bought at Walmart, hooked up the laptop and GPS and off we went.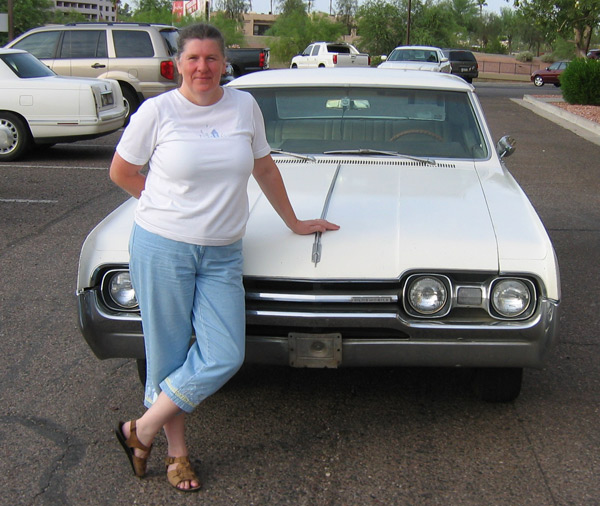 My Sweetie accompanied me to Phoenix - We flew First Class down and this is what she got to come back in.
About 100 miles out of Phoenix we heard a sound and pulled over. The right front tire had separated and the left one was about to. I jacked the car up and put the spare on but the jack was broken and wouldn't let the car down so I had to back off of it. Now I would not be able to change a tire again!
We headed for the CA border at a slow pace to find a tire shop and just before getting there the spare separated. I was able to make it to Jesse's Tires where they sold me two ancient tires with no warranty for a ridiculous $100. Not much I could do. I am just going to toss the tires anyway since I am putting different wheels and tires it.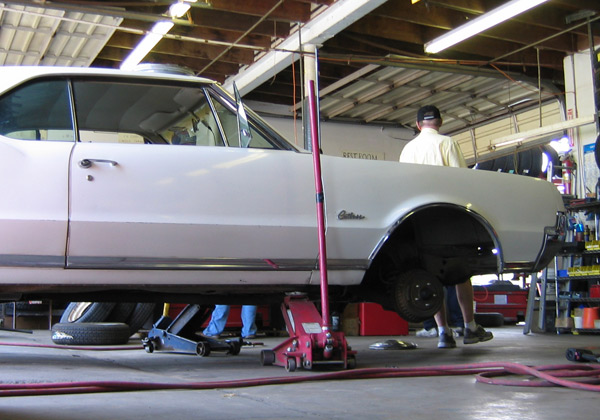 Getting 2 new front tires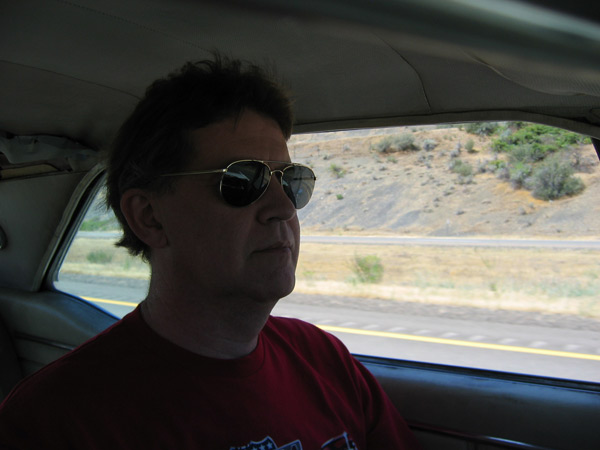 Talk about the wind in your hair - at 70 mph and 105 degrees it was very hot and very noisy
We made it to San Bernardino and went and visited Glorene's daddy's grave. Her cousins were kind enough to come out to visit us at the cemetery. Afterwards we headed for the Olive Garden for Lunch.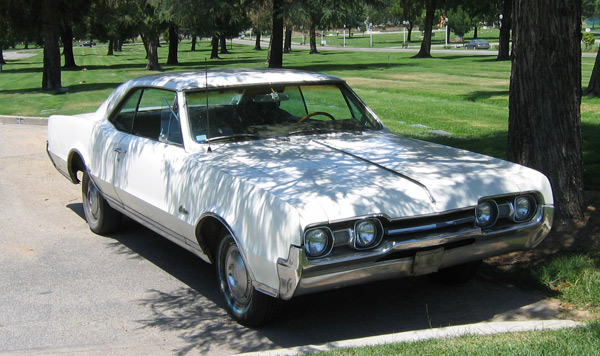 Trying to get a little shade to cool off while at the cemetery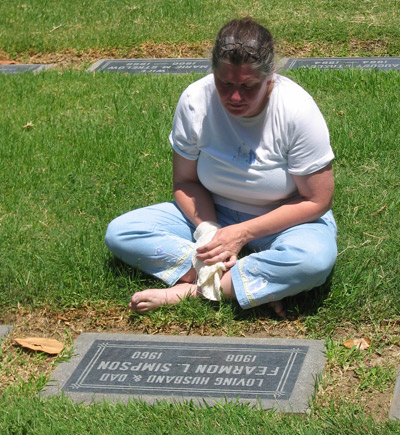 Glorene having a chat with her father
Next we headed for Bakersfield to possibly visit with her brother, but when we couldn't raise him on the phone I decided instead to shoot for Sacramento. Up to this point the car had been running hot, but didn't overheat to the point I had to stop. We rolled in to Sacramento at 11:30PM with some 17 hours of driving under my belt for the day.
We slept 6 hours and were off again. The weather was somewhat cooler than the 100+ temperatures of AZ and LA and were actually quite pleasant until about 10AM. I stopped in Redding to fill up and check the radiator before heading up the pass to Oregon. The radiator was boiling over, but not bad enough to stop I figured. So I took it easy up the pass only going about 55mph.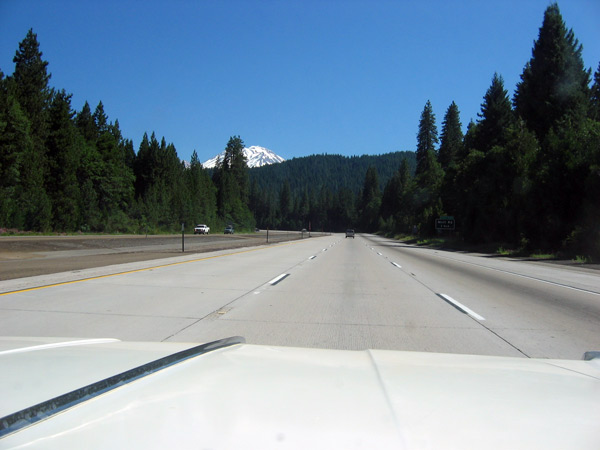 Heading up the pass
I really wanted to try and make Eugene Oregon for gas but the gas gage seemed to be dropping pretty fast so Glorene convinced me to stop about 10 miles out of Eugene. We stopped at a nice little Mexican Restaurant at about 3PM and then got gas. It took 19.6 gallons of gas. The car has a 20 gallon tank!!! I am glad she made me pull over.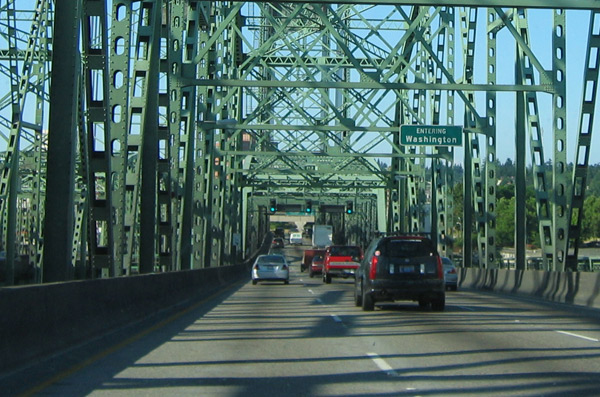 The home stretch - only 150 miles to go
We pulled into Seattle Tacoma Airport at 8:30PM after 13 hours of driving. I dropped Glorene off to pick up our car that we left at Doug Fox Parking and then we headed home.
During the trip, the car only got around 15mpg. The carburetor is a bit out of adjustment and the secondaries don't work. None the less the car had plenty of power as long as you didn't stand on it. Which I was afraid to do anyway for fear of breaking something. The engine used 2 quarts of oil in 1500 miles so it needs some serious work. It also used up about a gallon of antifreeze. It ran OK otherwise but started hard when it was hot. The front end shook pretty bad at speeds above 55 but we wanted to get home so I did 65-70. To tall of tires made the speedometer off by about 4mph according to our GPS so I drove accordingly.
I spent this AM cleaning up the interior and will try and take it in to a body shop to get an estimate on fixing the passenger rear fender plus redo some old work that was done on the drivers rear fender.
After some hard scrubbing the seats and door panels didn't look to bad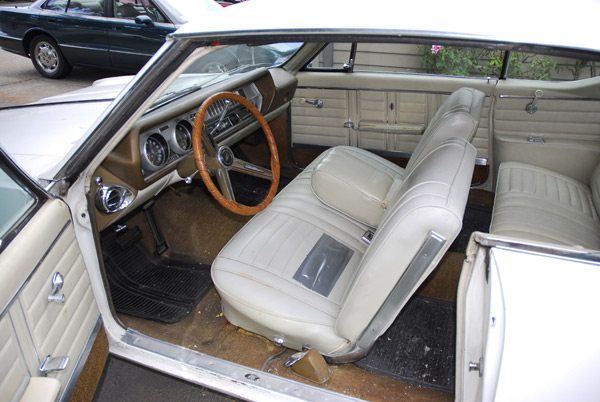 The drivers seat which had been recovered at some point earlier, had a tear in it which I covered with Duct Tape. The rear seats were original. Anyone out there want a beige interior? I am keeping the dash for the AC vents as my car doesn't have AC.
All in all it took 30 hours of driving to get here but for the most part was uneventful.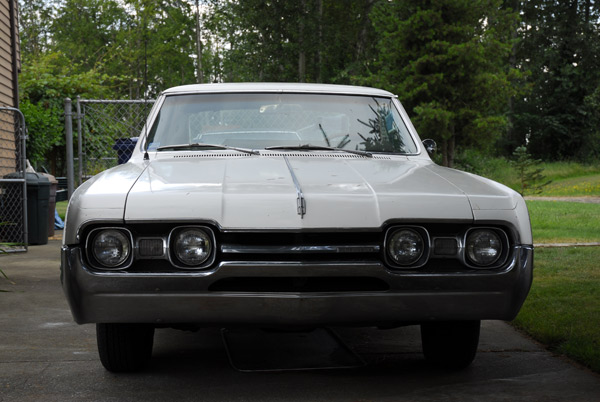 Home in the driveway