Mike Scott's 1970 Vista Cruiser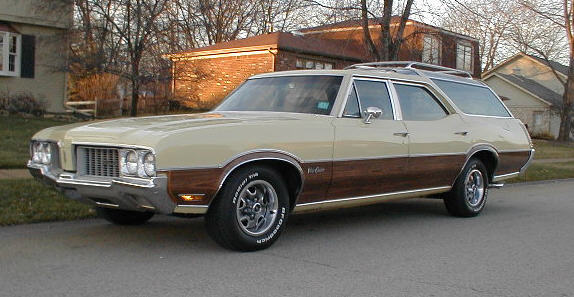 Having been a diehard Olds muscle lover since owning my first Cutlass (A '71, $400 wreck from the neighbor) at age 16, I've owned more than my share of the late '60's and early '70's variety A body variants. Over the years I've also grown very fond of the Vista Cruiser's clean lines and similarities to their more muscular brethren. It took awhile and a few project purchases, but we've found our keeper.

I first saw this car back in '95 at the Olds Nationals, in Greensboro, NC. The previous owner and his family were driving the Vista and were just finishing up a 23-day/2500 mile vacation with a 26-foot travel trailer in tow! I met the owner and told him that when he was ready to part with it, I'd like to own it. Last year, that happened.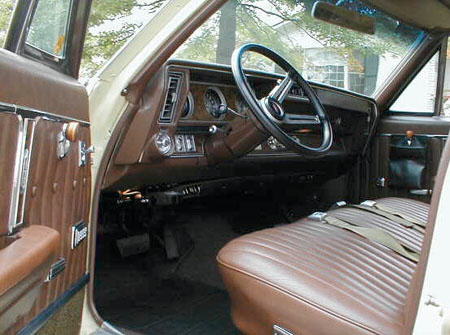 The car has been fully restored both cosmetically and mechanically. It started life as a Southern example and has been rust-free. The body was stripped and repainted the original Bamboo color along with receiving new woodgrain. Where necessary, the upholstery items were replaced including carpet, headliners, and the seat covers. All trim and chrome is in excellent condition.
As for creature comforts, this one is fairly loaded with options, as follows: A/C (ice cold), PS, PDB, PW, Power seat, tilt, cruise, AM/FM, roof rack, wind deflector, 3 seat interior with locking storage compartment, interior light group, Sport steering wheel, SSII wheels, and 3.23:1 rear.
The mechanical aspect is what really shines with this car! A very healthy 455 was built utilizing a host of Mondello performance parts like the JM-2022 cam and a full roller-rocker valve train. Stock "E" heads were ported and a worked Quadrajet with electric choke sits above a painted Edlebrock Performer intake. A stock point style distributor was used, however, with a Pertronix insert and a performance coil. Stock "W/Z" exhaust manifolds run through 2 ½ inch pipes, all the way back to dual trumpet-tipped tailpipes and flow through Dynomax Super Hemi mufflers. The T400 transmission was rebuilt to shift firmly, along with the addition of an upgraded stall converter which all connects to a 12-bolt 3.23:1 rear end gear. Suspension and brakes have been completely rebuilt including bushings, tie rods, etc, and the car runs on a combination of front gas and rear air shocks which makes adjusting easy when you load it down or tow a trailer. The car is set up for serious towing duty with a custom class 3 hitch installed, complete with an electric trailer brake controller, heavier rated '72 Vista rear coil springs, a transmission cooler, and an electric fan wired to trigger when the A/C is operated.
The car runs beautifully, has been most dependable, and has embarrassed a number of new and old cars at the stoplight and dragstrip.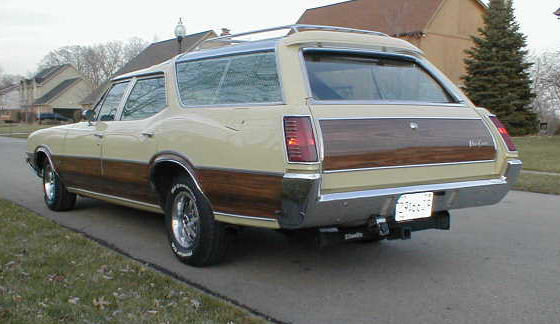 I'll bet your wondering about those odd-looking "shades" in the rear, side windows? They were custom made and ordered by the owner's of a funeral home, for use in another Vista we once owned. Apparently, that car did see some light casket duty and the shades obscured the view inside the rear compartment. I thought them to be rather unique and installed them in this Vista as an interesting alternative to window tinting! They are certainly conversation starters.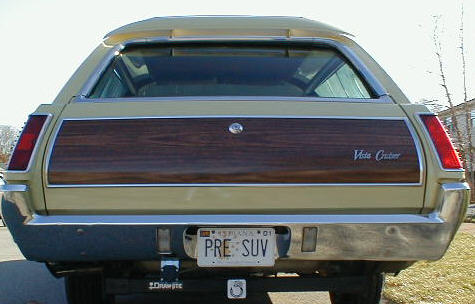 I've pictured our personalized license plate, which reads, "PRE SUV," and usually produces some finger pointing and laughter from those in my rear view mirror, often driving a Sport Utility Vehicle. Future plans include adding a Ram Air Hood/Cleaner combo, which have already been procured. I will also add sport mirrors and may change the front seat to buckets with a Hurst Dualgate console, however, the power bench is very nice! Finally, I'll add boxed rear control arms, a sway bar, and either a Rallye Pack or some tasteful aftermarket gauges to monitor the engine. With the addition of the OAI hood and mirrors, our car will look quite similar to the Mondello Wonder Wagon, and should run nearly as hard!
Look for the wagon with one of our W-30's in tow at the 2000 Oldsmobile Nationals in NJ. . If you recognize our cars at some of the Olds shows this Spring/Summer, come say hello!
I'd love to hear from my fellow Vista owners and see pictures of your cars.
You can see Mikes other two cars here (1968W30) (1970 W30)
Contact Mike
----- Back to the Rocket Rides Index -----