Mike Scott's 1968 442 W30 Holiday Coupe


For those of you that were fortunate enough to have attended the Oldsmobile Club of America's '98 National Meet, in Springfield, IL, you may remember seeing this beautiful example of Old's finest from 1968: the 442 W-30 Holiday Coupe VIN #34487M368799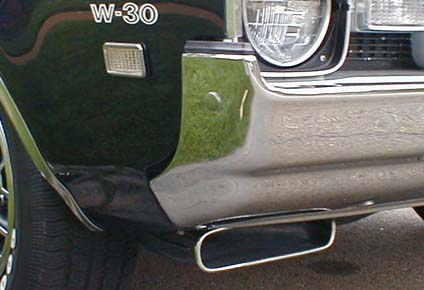 Production Numbers….

1968 was a milestone year in the high performance era for Oldsmobile. In it's 5th year, the 442 became a car in it's own right, upgraded to a full fledged series, and no longer just an option on the Cutlass/F-85 intermediates. As well, '68 marked a major body redesign, moving away from the earlier trend of boxier body shells to a more rounded streamlined look. The style proved most popular with Olds selling over 560,000 Cutlass variants, including over 36,000, 442's in various body styles that year. The W-30 has always been a low production offering, and in '68 the total of all 3 body styles, Holiday and Post Coupes, and Convertible amounted to a mere 1,911. Of that grouping, the most popular was the Holiday Coupe @ 1,426, and the 4-Speed was heavily favored over automatics @ 1,111. Mine is 1 of those 1,111 cars built that year.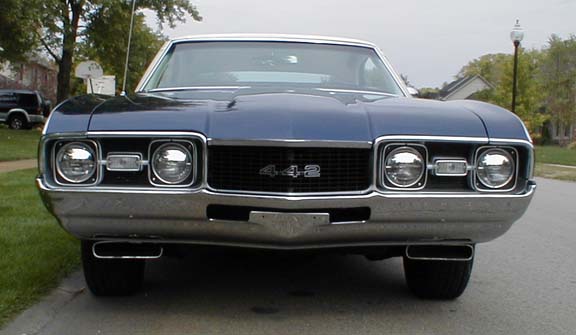 Force-Air 442 Performance Option…

From the Olds Sales Literature circa 1968….

"Air intakes looking out from under the front bumper identify this option. They scoop in cool outside air to boost the power of the 400-cu-in. engine to 360 HP. In addition to Force Air Induction, special high-output cams, selected low-friction engine fits, large intake valves and special axle ratio are part and parcel of this power pack. Wide vertical Rally Stripes (W-36) on the front fenders help identify the W-30 option. Anti-Spin Rear Axle (G-80), Heavy Duty Radiator (VO-1), Close Ratio 4-Speed Floor Shift Transmission (M-21), or Turbo Hydra-Matic (M-40), are required with the option to assure the utmost in performance and durability."

More on W-30s, 442s, and Our Car….

In addition, the Force Air package specified special parts including "D" cast heads, carburetor, water pump, distributor, and red plastic inner fender wells. Interestingly enough, all W-30s haled from the Lansing, Michigan plant, and must have an "M" in the VIN. As well, the 4-speed cam profile was so radical that it would not provide the vacuum necessary to operate a power brake booster, thus all stick cars came with manual brakes. Finally, A/C was not available if you opted for the Muncie transmission. Keeping with the factory stocker profile, the W cars came with lighter weight and reduced sound deadening to save a few pounds.

The balance of the standard 442 performance package items were also included such as specific dual exhaust manifolds (X and W or Y), coupled to dual aluminum pipes (N-10), exiting rear bumper cut-outs via chromed trumpet exhaust tips. Of course, the now famous Rally Sport Suspension (FE-1, later FE-2) was included with heavy-duty front and rear sway bars and boxed lower rear control arms. Back in '64, Oldsmobile was first to introduce the notion of a rear anti-sway bar, soon to be copied by the GTO crowd and many others.

Our car also has the following additional options:

Power Steering (N-40)
Rocket Rally Pack (U-21)
Sport Console (D-55)
Custom Sport Wood Rimmed Steering Wheel (N-34)
3.91:1 Heavy Duty Rear End Gears (G-88, with the G-80 mandatory anti-spin axle)
SSII Wheels (N-66 14x6, painted correct argent gray)
Superlift Rear Air Shocks (G-66)
Deluxe Lap and Shoulder Seat Belts (AK-1)

Our car began life trimmed in Jade Gold (Paint Code "S"), however, was fully restored a few years ago to it's present day medium blue metallic with white vinyl top (CO-8), white fender stripes (W-36) and parchment (off white) interior. The car is quite unique and simply stunning!

History of Our W-30….

I am the 2nd owner since the restoration, which occurred some time in the early '90's. Unfortunately, I received very little documentation from the prior owner. As the story goes, Bob and Anita Leonard were traveling on vacation in Florida, driving their late model Cadillac (believe an STS?) when Anita spotted the Olds sitting in the showroom of a muscle car dealer/restoration shop. They pulled over for a look, and Anita had to have the car. A deal was struck, the Leonard's traded in the Caddy, loaded their luggage in the Olds, and were off to complete their Southern vacation in vintage Oldsmobile style!

A couple of years went by, a few return trips to Daytona, Florida, and interests turned to Harley Davidson. I happened along the car by chance and luck, surfing a popular classified publication on the Internet. Upon seeing the photo, it was immediately recognizable to me as the beauty from Springfield, and I was lucky enough to reach Bob that night by phone to verify that fact. Time was of the essence! The publication would be out the next day, and by then, I imagined the Leonard's would be swamped with phone calls. I took off from work early the next day and paid them a visit.

I met Anita early Friday afternoon and spent my time around, underneath, and in the car, and was very pleased with the quality of the restoration, the presentation, and the attention to detail a 1st place car needs to have. The paint is beautiful, among the nicest I've seen. The sheetmetal is arrow straight, and original to the car, except on GM Quarter panel, that was hung the right way. The car has been a rust free Southern example, with perfect floor and trunk pans, wheel houses, door and trunk seams, etc.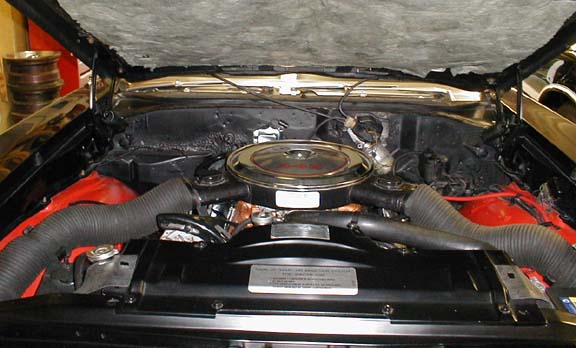 I knew I had to have this car, and took it for a test drive, in the light drizzly rain. This car drives as good as it looks! It feels tight and agile, like a brand new example. The engine is responsive, the Muncie/Hurst combo is silky smooth and the car accelerates like it should. The cam has a sinister profile, and really turns on in the upper RPM band. I've opted to leave the quiet, tasteful stock exhaust, as the burble from the trumpets is nice, though I'm sure it costs me a few horses.
As pictured above, this car is superbly detailed under hood and in the trunk. The interior was replaced with correct upholstery kits and all chrome/glass is excellent.

Our Oldsmobiles Today….

I've been an avid Oldsmobile lover since my first car at 16, when I bought the neighbor's '71 Olds Cutlass "S". I was introduced to the Olds Club in the late '80's and have been a member ever since. In those years I've owned more Oldsmobiles than most own cars in a lifetime. I must say that this '68 W-30 is among my all time favorites in all departments including looks, workmanship, and drivability. Most every day the weather permits, it is usually my favorite, often taking me to work. Unlike our '70 W-30 which I restored, body off the frame, this one was bought, "as-is" needing only a little fine tuning, detailing, and a healthy dose of driving. As such, I don't know its history like I know our '70 (every inch!), yet, when I drive it, I smile every time and the history lesson doesn't seem to matter.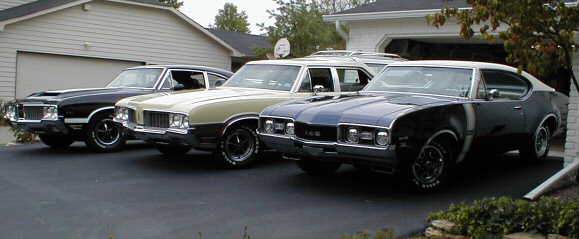 Above are some shots in front of our garage that houses the '68 and '70 W-30s, and our '70 Vista Cruiser "Wonder Wagon," stuffed full of Mondello engine parts. Please visit my other 2 cars too, just click on their links above.
All of you W Machine owners (30, 31, and the elusive '69 32), feel free to drop me an email. There are very few of us left!
Contact Mike
----- Back to the Rocket Rides Index -----